I am so excited. One of my favorite southern authors,
Dorothea Benton Frank
, has a new book coming out.
Read a preview here
. The book goes on sale April 8th. She is also working on 2 more books right now... one is a sequel to her first book, Sullivan's Island; and the second one is tentatively called Folly Beach. I love DBF because she develops her characters so well that you feel like you know them and in the center of every story is a strong southern belle. And if you are interested,
here is a video
that she made of her home on Sullivan's Island. She narrates as she walks through her house videotaping so it is a little shaky.
There are several lowcountry links on her website and one I found quite interesting was on
Angel Oak Tree
.
Statistics are:
Height: 65 Feet
Circumference: 25.5 Feet
Area of Shade: 17,000 sq. Feet
Largest Limb Length: 89 Feet & Circumference: 11.25 Feet

The Angel Oak is a Live Oak (Quercus Virginiana) that is a native species found throughout the Lowcountry (Costal Carolina). Believed to be in excess of 1500 years old, its massive, draping limbs and wide spreading canopy present the aura of an angel but the naming of this tree was acquired from the tree's previous owners, Martha and Justin Angel.
There are more great pictures, history, poems, and directions to the tree on the website.
~~~~~~~~~~~~~~~~~~~~~~~~
Another one of my favorite authors, Anne Rivers Siddons, FINALLY has a new book coming out in June.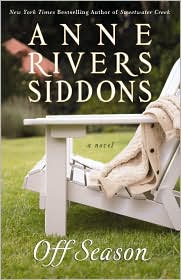 Another favorite author, Nicholas Sparks, has another book turned movie.
The US release date for the feature film version of
Nights in Rodanthe
is June 6, 2008. The film stars Richard Gere, Diane Lane and James Franco, and is being directed by George C. Wolfe.
Another fav author,
Cassandra King
, has started work on a new novel, Bridal Falls. No release date yet.
~~~~~~~~~~~~~~~~~~~~~~~~
Quote of the Day:
"A capacity and taste for reading gives access
to whatever has already been discovered by others."
- Abraham Lincoln