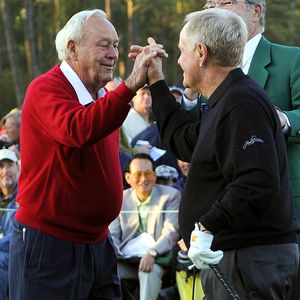 Timothy A. Clary/Getty Images

Arnold Palmer, left, and Jack Nicklaus have 108 Masters appearances and 10 champions' green jackets between them.



This morning, in a Masters tradition that never gets old, thousands of fans gathered around the tee and lined both sides of the fairway to watch Jack Nicklaus and Arnold Palmer hit tee shots to get the 75th Masters under way. I love golf, I actually enjoy watching golf on TV and I love it even more in person. Though I was not fortunate enough to be one of those thousand fans that gathered around the tee this morning. However, I will be watching the golf channel at night to catch up on the action and will watch the live action Saturday and Sunday.





If you enjoy the Masters, and enjoy watching it more with friends, then I have the party plan for you. Miss Janice created the perfect Masters party a few years back and shared it on her blog. She has allowed me once again to share the party with you!



Please check out Tee Time at the Masters




Her party plan showcases every thing you need for a spectacular Sunday of Masters.
All you need including invites, table settings, party favors, and of course the perfect menu!!